Domingo et la brume
Un film de Ariel Escalante Meza
Fiction - 2022 - Costa Rica, Qatar - 92 min - Couleur - 5.1
Avec Carlos Urena, Sylvia Sosa, Esteban Brenes Serrano, Aris Vindas
Sortie le 15 février 2023
Dans les montagnes tropicales du Costa Rica, Domingo, qui a perdu sa femme, possède une terre convoitée par des entrepreneurs. Ils sont déterminés à y faire passer une nouvelle autoroute et rien ne semble pouvoir les arrêter. Multipliant les actes d'intimidation, ils délogent les habitants les uns après les autres. Mais Domingo résiste car cette terre referme un secret mystique.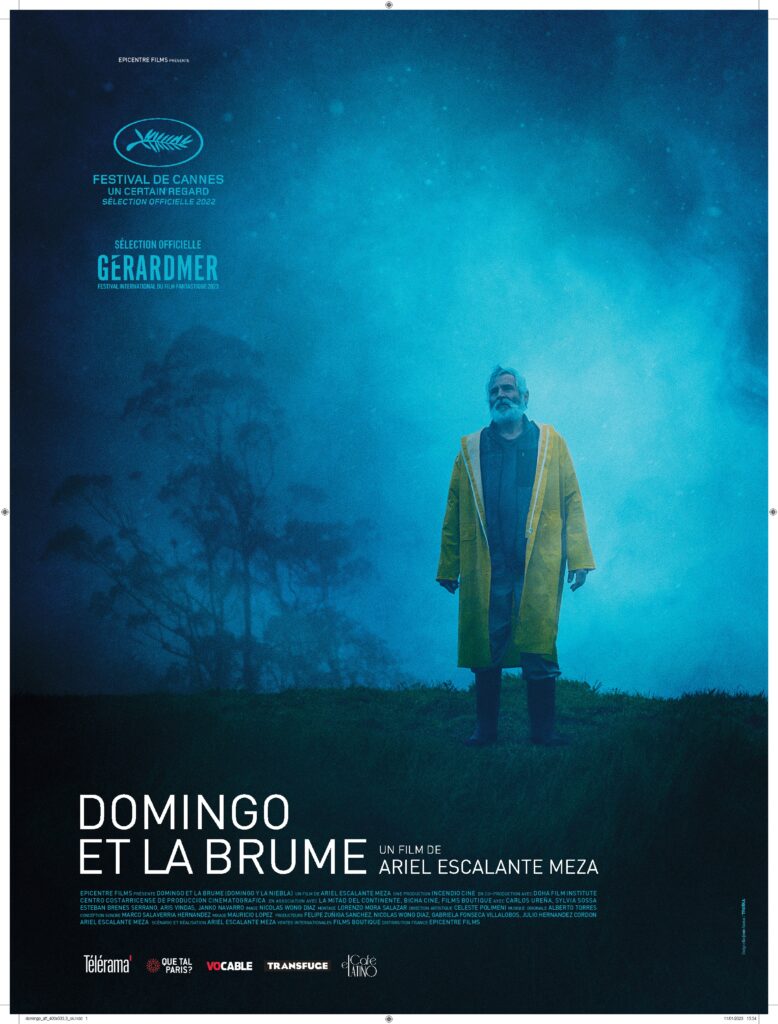 Équipe technique
Réalisation : Ariel Escalante Meza
Scénario : Ariel Escalante Meza
Direction Artistique : Celeste Polimeni
Musique originale : Alberto Torres
Directeur de la photographie : Nicolás Wong Díaz
Montage : Lorenzo Mora Salazar
Conception sonore : Marco Salaverría Hernandez
Mixage : Mauricio Lopez
Production : Incendio Cine
Producteurs : Felipe Zuniga Sanchez, Nicolás Wong Díaz, Gabriela Fonseca Villalobos, Julio Hernandez Cordon, Ariel Escalante Meza
Coproduction : Doha Film Institute, Centro Costarricense de Produccion Cinematografica
En association avec : La Mitad del Continente, Bicha Cine, Films Boutique
Vendeurs internationaux : Films Boutique
Distributeur français : Epicentre Films
Attachée de presse : Claire Viroulaud
Équipe artistique
Carlos Urena : Domingo
Sylvia Sosa : Sylvia
Esteban Brenes Serrano : Yendrick
Aris Vindas : Paco
À propos
Auteur, Réalisateur et monteur né au Costa Rica en 1984. Ariel Escalante Meza est diplômé en sciences politiques à l'Universidad de Costa Rica et en cinéma à l'Escuela Internacional de Cine y Television (EICTV) à Cuba et à la Concordia University de Montréal au Canada. 'The Sound of Things', son premier film, a remporté le prix Kommerzant Weekend au Festival du Film de Moscou en 2016 et a été projeté dans plus de 30 festivals internationaux dont Mar del Plata IFF, Biarritz, Amérique Latine et Havana IFF. Le film a représenté le Costa Rica aux Oscars et aux Goya Awards en 2018. Il a monté plus de dix longs-métrages, comme 'Ceniza Negra' (Semaine de la Critique, Cannes 2019), 'Agosto' (Toronto IFF/San Sebastian IFF 2019) et 'Red Princesses' (Berlinale 2013). Il a également monté le court-métrage 'The Minutes. The Hours' (Cinefondation, Cannes 2010). Il a reçu le prix national des arts des mains du ministre de la culture costaricien en 2017 pour avoir réalisé 'The Sound of Things'.
Festivals
Festival de Cannes – Un Certain Regard – Cannes 2022
Festival Biarritz Amérique Latine – Cinémas & Cultures – Biarritz 2022

Festival du film de Munich

– 2022
Festival international du film fantastique de Neuchâtel – 2022
Festival international du film de Melbourne – 2022
Festival de Lima – 2022

Festival international du film de Toronto

– 2022
Festival international du film fantastique de Catalogne – 2022
Festival international du film de Haïfa – 2022
Festival international du film de

São Paulo – 2022

Almeria Western Film Festival – Tabernas 2022
Cali international Film Festival (FICCALI) – 2022
Denver Film Festival – 2022
Havana Film Festival New-York – 2022

Festival international du film de Cork

– 2022
Rizoma Festival – Madrid 2022
Festival Filmar en América Latina – Genève 2022
Festival international du film d'Inde – Goa 2022
Festival international du nouveau cinéma latino-américain de La Havane – 2022